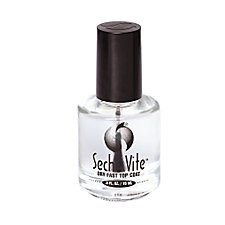 I know I'm not the first to discover the secret of Seche Vite. I know that I'm not even the best person to write a review on nail polish since I do my nails maybe once a month if I'm lucky. However, I felt that I would be remiss if I didn't mention how amazing this product is.
First of all, I have to mention the price. It runs about $8 a bottle, which is very steep, especially for the casual manicurist like myself. Sometimes you may be able to catch it on discount (at CVS during one of their awesome beauty discount days or even places like Sally Beauty Supply), but I would expect to pay somewhere around $8-10 if you include shipping.
BUT! It's totally worth it, and then some. Have you ever painted your nails, then had to wait and wait and wait for it to completely dry… and even then you end up hitting it on something and ruining everything? I am pretty sure that it's not just me! Anyway, I tested out Seche Vite for the first time at 11:00 PM. I started my manicure, put on one coat of base, two coats of color (Zoya Hermina), and one coat of Seche Vite. I was done by about 11:25 or so.
Within a few minutes, it was dry to the touch. I was very impressed, but still skeptical. When I went to bed at midnight, I fully expected to wake up with sheet marks and hair lines in my nails. But there was nothing – nada – zilch! And a week later, my nails still look great!
Have you used Seche Vite? What do you think about it?