As I mentioned earlier, I'm hosting a Scentsy basket party! The main reason why I decided to host a Scentsy party this month was because it is "Bring Back My Bar" month.  That means that tons of retired favorites are available for a very limited time (January only).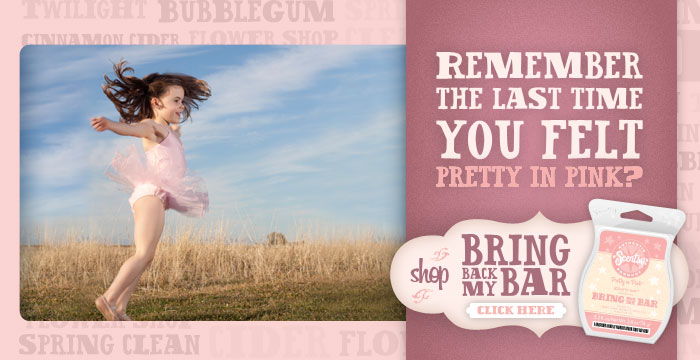 Some of my favorites are:
Amaretto – An almond-scented fragrance sweetened with honey and spice.
Berries & Bubbly – Sweet strawberry aroma with champagne.
Cherry Almond Pie – Graham crackers, sweet almond, cream, and cherries.
Cinnamon Cider – Tart apples balanced with oak and spicy cinnamon.
Cranberry Spice – A generous blend of cloves and ginger help define the sophistication of tart cranberry.
Mad About Mint – A blast of mint: spicy peppermint, spearmint, and wintergreen.
Pretty in Pink – Feminine white florals with a touch of grapefruit over rich amber and wood.
Spiced Grapefruit – Mandarin and bergamot citrus perfectly balanced with spicy coriander, nutmeg, and allspice.
Spring Clean – Refreshing spring air and morning dew blended with orange blossom and crisp white florals.
Toasted Apple Butter – Creamy butter blended with ripe apples accented with rich spices.
Vanilla Walnut – A warm fragrance with roasted walnut and sweet vanilla bean.
There are also a ton of warmers on clearance, so now is really a great time to try out some Scentsy goodies. Just click Close Out Items on the left navigation menu!
Have you bought anything from Scentsy?  What's your favorite warmer and scent?